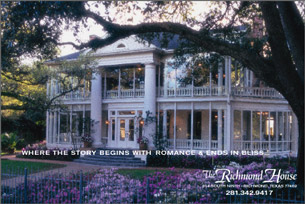 The Richmond House
281-342-9417
314 South Ninth St.
Richmond, TX 77469
The Richmond House is your ultimate location when planning a wedding. The principle of The Richmond House is simple - custom designed service to meet individual client needs. The professional staff can take the stress out of planning your wedding. The Richmond House can take care of everything from invitations to limos. They are there to help you with every step along the way. Picture a three story, columned southern mansion furnished in beautiful American and European antiques where china, silver and fine linens are house standards. The Richmond House has established itself in the market as a place of great southern charm where old-fashioned service is what their clientele value most. For a day you will always remember in a mansion you will never forget . . . The Richmond House.
For your appointment, call 281-342-9417.
The Richmond House is located at
314 South Ninth Street in Richmond, Texas, just 25 minutes from the Galleria.
Take a virtual tour...